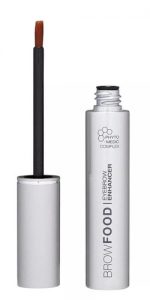 About the effects: Another eyebrow serum that deserves to be included in this ranking due to its huge popularity – Browfood Phyto-Medic Eyebrow Enhancer. This is reinforcing eyebrow serum that is supposed to limit brow hair loss and restore natural beauty to eyebrows.
How does it work? Mostly, this products improves nourishment and supplies the brows with all the nutrients they need. This is how the main task is handled – Browfood makes eyebrows beautiful by improving their state of health.
The majority of Browfood users report having thinning and weak eyebrows. Rarely is Browfood chosen by those whose eyebrows are severely damaged (e.g. due to over-plucking) and those who want to introduce dramatic changes into the look of they eyebrows. Reason? This eyebrow serum gives subtle effects. Indeed, it's effective but the final results aren't as impressive as you might expect them to be.
Browfood stimulates growth of eyebrows thanks to a blend of natural substances such as rice and soy proteins, adenosine, arginine, shea butter, aloe juice and Phyto-Medic Complex that contains a few herbal extracts.
Browfood makes a good choice for vegans – it doesn't contain any substances of animal origin, it was tested by dermatologists and carries Ecocert label. Sadly, not all products that are organic are also effective.
Use: How to use Browfood? You should apply it to clean eyebrows at bedtime; spread the serum over brow ridges. Wait until it gets absorbed fully.
Despite being all-natural and safe, this serum shouldn't be used by pregnant and breastfeeding women. Also, this product can be used externally only. Moreover, extra precautions should be taken in order to avoid possible irritations.
Conclusion: Browfood Phyto-Medic Eyebrow Enhancer is an eyebrow serum containing natural ingredients. It's high price doesn't correspond to the way it affects eyebrows, nor to its quality. Also, it'd be better if the application was a little bit less challenging.