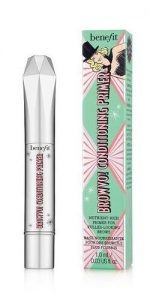 About the effects: Thousands lovers of Benefit brand – and its beauty products – eagerly reach for Browvo! eyebrow serum. This is a serum promising brow nourishment and beautification. No wonder why this product enjoys such huge popularity.
The secret of Browvo! is an interesting composition including for example keratin, soy proteins, panthenol, jojoba oil, olive oil and vitamin E. Sadly, one of the top places on the list of ingredients is taken by alcohols and preservatives.
Naturally, you can keep wondering what you can win thanks to regular application on Browvo!, but also you can read some online reviews to find out that this eyebrow serum sometimes fails to deliver the desired effects. Some women are highly satisfied with how Browvo! enhances their look by intensifying the color of eyebrows, making them fuller-looking and nourished. The others, however, claim not to see any changes.
It's worth realizing that Browvo! is a conditioning eyebrow primer – its key task is to facilitate application of eyebrow makeup. This beauty product ensures healthy look and fixes makeup, yet it won't accelerate eyebrow growth.
Browvo! is available in two sizes: full and travel. Naturally, for many user this two-size option appears to be a big advantage, especially after realizing that the smaller tube is considerably cheaper.
Use: Benefit Browvo! is a colorless gel-like eyebrow conditioner. Owing to such consistency, there shouldn't be any problems with applying the product correctly. Neither will it run down the face nor stain anything – instead, the primer will penetrate eyebrows fast; providing that you don't apply too much of it!
The difficulties concerning application of the serum might be caused by the unconventional shape of the applicator. To clarify, the Brawo! tube comes with a silicone-bristle tip. You have to swirl the bottom of the tube to get the serum. This solution has two benefits: firstly, this helps you dose up the serum and secondly, the silicone brush will comb your eyebrows easily.
Conclusion: Browvo! eyebrow serum by Benefit makes a good choice for women who don't look for obtaining spectacular effects but just want a good (because expensive) primer.