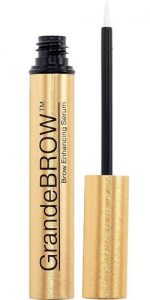 About the effects: The impression that this golden eyebrow serum Grandebrow creates is twofold – some people find it luxurious, whereas the others say that it looks kitschy. Still, it's not about the designing, but how the product works is what matters.
Reportedly, in 100% cases Grandebrow improves the appearance of eyebrows. However, it doesn't mean that this serum is able to meet all our expectations. Grandebrow serum maintains the adequate hydration level and nourishment, yet this doesn't mean that you will achieve dramatic effects, neither should you expect incredible thickening and colour improvement. Definitely, this eyebrow serum isn't recommended to those who have severely damaged and excessively thinning eyebrows.
Grandebrow composition contains quite a number of antioxidants, reinforcing amino acids and nourishing vitamins. Other key ingredients include moisturizing hyaluronic acid and, sadly, preservatives.
This is another dermatologically tested, vegan and cruelty-free product. The complete treatment lasts 4 months and this is also the period that one tube of Grandebrow holds out for. Naturally, the first effects might appear sooner, and you can expect them within 6-8 weeks of use. The period of time needed by the eyebrow serum to produce the effects is determined by the user's susceptibility to the ingredients used in the product.
Use: Despite being a regular eyebrow serum, Grandebrow comes with an applicator that is typical of an eyelash serum. This might be an issue for some users, because a thin brush impedes fast and precise application of the serum.
If this problem was fixed, Grandebrow would be super easy to use. The application consists of taking three simple steps. Precise removal of colour cosmetics and impurities that accumulated on eyebrows. Applying the colorless serum to both eyebrows. Letting the serum penetrate freely.
Conclusion: Grandebrow is an effective eyebrow serum. However, neither is it recommended to those who expect dramatic effects nor to those whose eyebrows are severely damaged. This eyebrows serum is simply too weak to deliver dramatic effects.