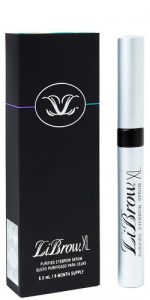 About the effects: Popular in many countries Lilash eyelash serum has now its sister product – Librow. This is an eyebrow serum of a concentrated formula. It's recommended for people who aren't satisfied with the looks of their eyebrows.
Librow eyebrow serum owes its action to various substances responsible for stimulating growth of eyebrows. For example, in Librow tube you can find glycerin, castor oil, para rhatany root extract and sweet almond extract, panthenol. The list of ingredients also feature a substance known for increasing the saturation of the natural shade of hair, hence the intensified eyebrow color.
Unfortunately, the composition of Librow doesn't seem to be completely safe. In other words, this formula includes a few potentially hazardous substances such as parabens, silicones and more.
How does this eyebrow serum work? Librow is a product good at moisturizing and nourishing weak eyebrows. This encourages the brows to become stronger and more resistant to damage. However, if some of you look for making eyebrows significantly thicker and enhanced, this serum may appear to be not effective enough. Indeed, the appearance of eyebrows will be improving gradually, but the final effect won't be dramatic.
Librow wasn't tested on animals. The formula was subjected to a few researches to prove hypoallergenics of the product. In light of this, Librow should be suitable for sensitive skin, which is also confirmed by most users.
Use: The long-known principle saying 'less is more' finds its application in Librow use. It's advised against spreading too much of the serum over the eyebrows. Doubled dose of serum can be applied to the area where the eyebrows are truly thin, fair and short.
The biggest challenge here is the applicator. To clarify, Librow eyebrow serum comes with a thin brush – the one that you can find in eyelash serums. This solution fails here because spreading eyebrow serum over brow ridges using such a thin applicator occupies too much time.
The application itself isn't complicated. You have to unscrew the tube, take out the brush and apply the serum to eyebrows. Then you have to wait 2-3 minutes to let Librow penetrate brows freely. Done.
Conclusion: Librow is an expensive eyebrow serum that doesn't guarantee you achieving speculatar effects. The applicator isn't satisfying either – it doesn't ease the application of the serum. All things considered, it's better to think twice before getting Librow.