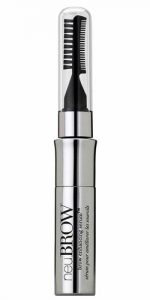 About the effects: Eyebrow serum launched by Neu Cosmetics is a product suitable for those who complain about the appearance of their eyebrows. Neubrow should be used when the brow ridge isn't even, when some brow hairs are significantly lighter than others; also those who have patchy eyebrows may consider using this serum.
Neubrow works in a few ways. This is a good eyebrow serum that improves moisture level in brows and makes them less prone to falling out. The nourishing substances strengthen brow follicles and regenerate them. On the flip side, it must be realized that Neubrow might fail to fix severely damaged eyebrows.
The effectiveness of Neubrow is owed to a combination of 10 ingredients, all handling different tasks. The key substances used in Neubrow include: panthenol, biotin, pumpkin seed extract, allantoin, almond proteins, keratin and myrtus oil. Naturally, these aren't all the substances used in Neubrow, therefore it's advised to scan the list of ingredients before getting the eyebrow serum.
In theory, this eyebrow serum is supposed to improve the volume of eyebrows for about 76% and extend the brow hairs for about 63%. However, the research ran on 48 women doesn't seem to be fully reliable. In reality, Neubrow isn't strong enough to boost the volume of eyebrows in every user, and the final effects are hard to foresee.
Use: Neubrow eyebrow serum comes with an applicator that can't be described as common. Hidden under a transparent cap, the applicator features a thick comb on one side – you can use it to style the brows – and a small brush on the other to spread the serum with.
The first step depends on applying the serum to eyebrows and then running the comb through the brow hairs. This allows the user to spread the serum evenly along the entire brow ridge. Also, combing stimulates micro-circulation in brow ridge.
Conclusion: Neubrow is an eyebrow serum that has two drawbacks: high price and unproven effectiveness. Still, this nutrient-rich composition and an intriguing applicator may lure some people into getting this eyebrow serum.