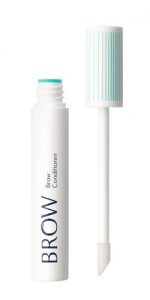 About the effects: Eyebrow serum, carrying not-so-original name, Brow is another product launched by Orphica that is known for being the producer of one of the best-selling eyelash serums – Realash.
Orphica Brow makes eyebrows darker, redefines the brows and limits the necessity of wearing heavy brow makeup. It beautifies by turning eyebrows thicker and stronger. Indeed, within two weeks eyebrows become healthier and less prone to damage, and the damage is often caused to eyebrows even during makeup removal.
What does Orphica Brow contain? A few plant extracts (e.g. ginseng and nettle), pro-vitamin B5 and glycerin. Sadly, most of the ingredients used in this eyebrow serum are preservatives and synthetic substances responsible for boosting the effectiveness of the serum.
How long do you have to wait to see the effects? The first, very subtle changes can be noticed within approximately 4 weeks. During the first month Brow by Orphica reinforces eyebrows from the inside. The turnaround time of achieving the final effects is definitely longer since it may take even 12 weeks!
A few words should be also said about the packaging. Simple, minimalist, with no bright colors – many people associate this design with a medicine or hypo-allergic beauty product.
Use: Orphica Brow was designed in such a way, to reduce the complexity of use. The serum can be applied by following three simple steps. The first step includes makeup removal, eyebrow washing and drying. The second step depends on spreading the serum on eyebrows, starting from the inner to outer edge of the brow ridge. During the third step, you have to allow the serum penetrate the brow freely.
The applicator that Brow by Orphica comes with is convenient. It's soft, its size is right and is shaped in such a way to allow smooth gliding over brow ridge.
Conclusion: Brow eyebrow serum by Orphica is a good solution for those who have fair and weak eyebrows, yet not for the demanding customers since its action and ingredients provide subtle effects, which need time to become clear to notice.